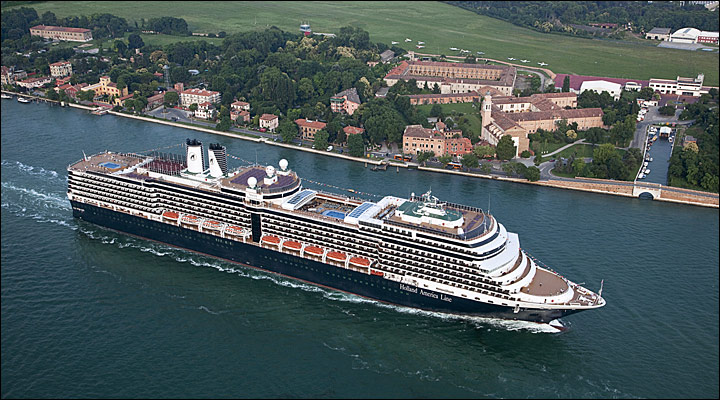 ms Nieuw Amsterdam
NEW! - 'Have it all' and add a drink package, shore excursions, specialty dining and WiFi to any booking for one low price - see details here!
The second of the Signature-class ships, ms Nieuw Amsterdam celebrates the glamour and history of New York City, formerly called Nieuw Amsterdam, with its inspired interior design and art collection valued at over $3 million, ranging from antiques by traditional Dutch masters to creations by renowned contemporary artists including Andy Warhol, Richard Estes and Roy Lichtenstein throughout the ship.
While on board, choose from an array of onboard activities that allow you to pursue new interests or relax and rejuvenate. Learn how to edit, display and share your vacation videos and photographs through the Digital Workshop powered by Windows®. Enjoy onboard cooking shows and hands-on workshops in partnership with America's Test Kitchen. And explore the wonders of our world through exclusive BBC Earth natural history content through onboard activities, concerts and films.
The Greenhouse Spa & Salon offers spa treatments, a thermal pool and lounge and a variety of salon services. The fully equipped Fitness Center includes state-of-the-art cardio and weight machines, as well as classes in Yoga, Pilates, indoor cycling and more. On deck enjoy two outdoor pools, along with basketball and volleyball courts. Club HAL® provides a wide variety of youth and teen-friendly activities for kids ages 3 to 17, supervised by qualified, full-time staff.
Nieuw Amsterdam guests enjoy dazzling entertainment options from their very first night on board. Boosting three music venues: Lincoln Center Stage, featuring world-class musicians performing chamber music, Billboard Onboard, rocking the house with 50 years of chart-topping hits and the popular B.B. King's Blues Club, which brings the best of Memphis blues to sea, and completes the "Music Walk" experience.
Enjoy everything from a burger and fries by the Lido Pool to the authentic Pan-Asian flavors of Tamarind to the ultimate in refined and luxurious dining at the Pinnacle Grill. Sel de Mer ("sea salt," in French) is an intimate seafood brasserie offering a contemporary twist on French seafood classics, with à la carte dishes ranging from fresh oysters to salt-crusted whole fish to bouillabaisse.