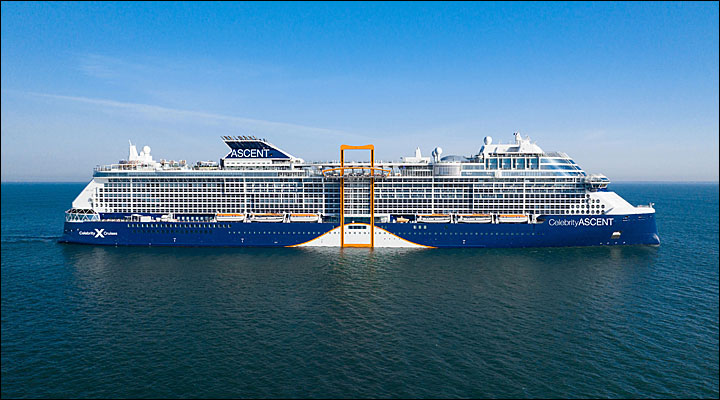 Celebrity Ascent
Beginning August 8th, Celebrity Cruises has removed COVID-19 testing requirements on cruise durations of 5nts or less.
NEW! Upgrade your cruise only interline rate and make it an All-Inclusive cruise vacation. Celebrity's 'All Included' program is now available and you'll get unlimited Drinks, unlimited WiFi and Gratuities included in your discounted rate! Only available from your PERX Vacation Consultant so call today or use the request online and ask for the 'All Included' interline rate. Find out more here.
More space. More luxury. More connected. Celebrity Ascent℠
Welcome to a place where you can escape and experience all the things you've been missing for so long. Only now, those things are even better than you've imagined. This is a place where the everyday gives way to the extraordinary. A place with more space to lose yourself in and more luxury to love. Where the possibilities are as endless as the views. Where you can disconnect entirely while you reconnect with each other—and the world. This place is Celebrity Ascent.
Celebrity Ascent, the fourth in their Edge Series ships, takes their innovative outward-facing design further than ever, creating an even closer connection between you, the sea, and every exciting place on the horizon. Soak up the sun, salt breezes, and stunning scenery in newly expanded open-air spaces. Savor fine dining that rivals anything you'd find on land. And discover even more ways to relax and renew.
Celebrity Ascent is expected to take Celebrity's 2023-2024 Caribbean season to new heights.
NOTICE: Prior to booking, please consult all applicable U.S. Centers for Disease Control travel advisories, warnings, or recommendations relating to cruise travel, at cdc.gov/travel/notices. If a certain threshold level of COVID-19 is detected onboard the ship during your voyage, the voyage will end immediately, the ship will return to the port of embarkation, and your subsequent travel, including your return home, may be restricted or delayed. Health and safety protocols, guest conduct rules, and regional travel restrictions vary by ship and destination, and are subject to change without notice. Due to evolving health protocols, imagery and messaging may not accurately reflect onboard and destination experiences, offerings, features, or itineraries. These may not be available during your voyage, may vary by ship and destination, and may be subject to change without notice.