9 days Warsaw, the Baltics & Helsinki - 9 days from Warsaw to Helsinki (Tour: RQ) 2023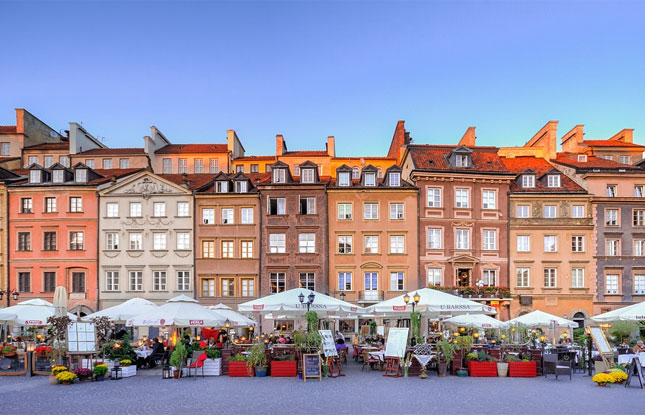 This tour of the Baltics and Northern Europe is impressively full of high notes. Making your way from Poland to Finland through Lithuania, Latvia, and Estonia, you'll see the historic sights, spoon the hearty stews, and hear the harmonious songs this distinctive region is famous for, starting with a private Chopin concert in the music maestro's hometown. Beyond Warsaw's resilience and its "Wedding Cake" Palace of Culture and Science, there's more to fall in love within every capital city along your journey—Vilnius' bohemian artist quarter, Riga's Black Balsam liqueur and sweet Laima chocolates, and Tallinn's fairytale Old Town and onion-domed cathedral. A breezy ferry ride across the Baltic Sea to the design-centric city of Helsinki is the perfect encore.
Globus offers Small-Group Discoveries on select Europe dates. A Small-Group Discovery is limited to an average of just 24 guests per departure. There's always room to roam with extra space between you and other travelers—while still getting up close and personal to the experiences you've been dreaming of. Small-Group Discoveries include all the features of a traditional Globus Europe escorted tour, complete with expert Tour Director, Driver, and Local Guides who ensure that your health and safety is our top priority. A Small-Group Discovery trip is the perfectly sized European tour—without the crowds.
| Day | Location | Description |
| --- | --- | --- |
| 1 | ARRIVE IN WARSAW, POLAND | WELCOME TO WARSAW! At 6 pm, meet your Tour Director and travel companions for a welcome dinner at your hotel. Dinner |
| 2 | WARSAW | CLASSICAL NOTES IN WARSAW WARSAW Guided sightseeing includes Stare Miasto (Old Town) and St. John's Cathedral. Free time this afternoon before attending a Globus Local Favorite private Chopin concert. Breakfast LOCAL FAVORITE GREAT PERFORMANCES Enjoy a wonderful performance of passionate compositions by Frédéric Chopin in an elegant hall in Warsaw. Hear the moving music created by the legendary Polish composer and virtuoso pianist of the Romantic period. |
| 3 | WARSAW–VILNIUS, LITHUANIA | BOHEMIAN BEAUTY Relax during a scenic drive to Vilnius. VILNIUS Enjoy dinner at your hotel. 298 mi / 480 km Breakfast Dinner TOUR HIGHLIGHT CITY SIGHTS Vilnius is a mix of a modern art scene, bohemian art galleries, museums and off-beat bars and cafes, along with cobblestones and medieval churches. You'll also find a wealth of German Gothic, Italian Baroque, and French Classicism architecture in this picture-perfect Lithuanian town. |
| 4 | VILNIUS | HISTORY & ARTISTRY VILNIUS Guided walking tour includes the Old University, the KGB Museum, and Globus Local Favorite Užupis (Vilnius' artist quarter). Breakfast LOCAL FAVORITE ART & ARCHITECTURE Step into Bohemian Užupis, formerly the smallest district of Vilnius which declared itself independent on 1st April 1997. Explore the vibrant streets and admire the open- air artwork that is on display for all to enjoy. |
| 5 | VILNIUS–RIGA, LATVIA | HILL OF REMEMBRANCE Photo stop at the Hill of Crosses en route to Riga. 214 mi / 345 km Breakfast Dinner TOUR HIGHLIGHT PHOTO OPP Stop at the sobering and moving Hill of Crosses on your way to Latvia today. This historic Christian pilgrimage site, studded with thousands of wooden crosses thought to have been first erected on this small hill in Lithuania by families in lieu of graves after the 1831 uprising against Russian rule. |
| 6 | RIGA | ART NOUVEAU IN OLD TOWN RIGA Guided walking tour of the Old Town includes the Art Nouveau quarter. Globus Local Favorite Riga Balsam (a traditional Latvian herbal liqueur) and Laima chocolate tasting. Free time this afternoon and evening. Breakfast LOCAL FAVORITE LOCAL TASTES Raise a glass of Latvia's national drink, a dark herbal liqueur called Riga Balsam to experience the rich taste of birch, lime, ginger, cocoa, liquorice baking spices, and berries. The perfect pairing for traditional Laima chocolate! |
| 7 | RIGA–TALLINN, ESTONIA | ENCHANTING ESTONIA Scenic drive along the coastline of the Gulf of Riga en route to Tallinn. TALLINN Guided sightseeing includes a visit of the Alexander Nevsky Cathedral and St. Nicholas' Church. 211 mi / 340 km Breakfast TOUR HIGHLIGHT CITY SIGHTS Discover the vibrant and historic old town of Tallinn. Estonia's captivating capital. Its rich heritage and importance as a major Hanseatic trading hub are still visible in its well-preserved medieval architecture and towers rising above the city skyline |
| 8 | TALLINN–HELSINKI, FINLAND | FERRY TO FINLAND! Scenic ferry crossing from Tallinn to Helsinki. HELSINKI Guided sightseeing includes the Lutheran Cathedral, Sibelius Monument, and the open-air market. Farewell dinner at your hotel this evening. 56 mi / 90 km Breakfast Dinner TOUR HIGHLIGHT CULTURE & TRADITION Finland's southern capital of Helsinki is poised on the peninsula in the Gulf of Finland, where striking architecture and Nordic cuisine delight visitors. Stroll the open-air market for traditional fare and see the beautiful cathedral and Sibelius Monument in this historic and picturesque setting. |
| 9 | HELSINKI | SAFE TRAVELS UNTIL WE MEET AGAIN! Your vacation ends with breakfast this morning. Breakfast |