14 days European Tapestry - 14 days from Amsterdam to Paris (Tour: HA) 2023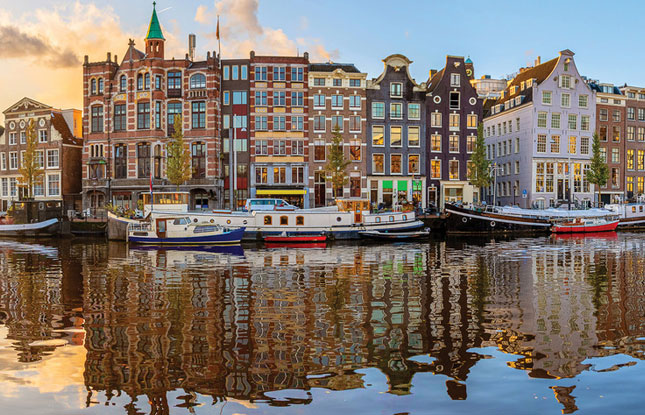 Like the world's most beloved tapestries hanging in Europe's most famous museums, this 14-day tour of Europe intertwines stunning scenery, centuries-old culture, and the timeless stories of seven countries to present an unforgettable experience. From the canals of Amsterdam to the casinos of Monte Carlo, we've stitched together an exciting array of sights and scenes to truly capture the big picture of Europe. In addition to the stunning imagery of the castle-dotted Rhine Valley, the snow-dusted Swiss Alps, and the olive-clad Tuscan hills, you'll be introduced to the artful subjects who help tell the tales of time—the woodcarvers of the Black Forest, the glassblowers of Venice, and the beer makers from Rhineland. A perfectly woven itinerary of fascinating cities, charming countryside, and creative cuisine, this multi-country tour threads together the most memorable sights and experiences of Europe.
Globus offers Small-Group Discoveries on select Europe dates. A Small-Group Discovery is limited to an average of just 24 guests per departure. There's always room to roam with extra space between you and other travelers—while still getting up close and personal to the experiences you've been dreaming of. Small-Group Discoveries include all the features of a traditional Globus Europe escorted tour, complete with expert Tour Director, Driver, and Local Guides who ensure that your health and safety is our top priority. A Small-Group Discovery trip is the perfectly sized European tour—without the crowds.
| Day | Location | Description |
| --- | --- | --- |
| 1 | ARRIVE IN AMSTERDAM, HOLLAND | WELCOME TO AMSTERDAM! At 6 pm, meet your Tour Director and travel companions for a welcome dinner at your hotel. Dinner |
| 2 | AMSTERDAM | HOLLAND DAYS AMSTERDAM Take a guided canal cruise and visit a Diamond Centre, followed by free time this afternoon and evening. Breakfast TOUR HIGHLIGHT EPIC RIDE See the most fascinating views of Amsterdam on a canal cruise along the elegant grachten lined with homes dating back to the city's "Golden Age." |
| 3 | AMSTERDAM–HEIDELBERG, GERMANY–RHINELAND | TRADITION ON TAP IN HEIDELBERG RHINE RIVER Enjoy a scenic cruise. HEIDELBERG See the red-walled castle ruins. Globus Local Favorite Enjoy a beer at the Kulturbrauerei Heidelberg before driving to Karlsruhe. 348 mi / 560 km Breakfast Dinner LOCAL FAVORITE LOCAL TASTES Lift a glass of German beer in Kulturbrauerei Heidelberg brauhaus. Enjoy the famous tastes of Germany in this elegant and rustic beer house where hospitality is served in the heart of the brewery, along with legendary beers – both traditional and modern. |
| 4 | RHINELAND–BLACK FOREST–RHINE FALLS, SWITZERLAND–LUCERNE | WITH CHERRIES ON TOP BLACK FOREST Globus Local Favorite Enjoy a traditional woodcarving demonstration followed by Kaffee und Schwarzwaldkuchen (coffee and Black Forest Cake). RHINE FALLS Take pictures of the waterfalls before continuing to Lucerne. LUCERNE Free time this afternoon and evening. 211 mi / 340 km Breakfast LOCAL FAVORITE CULTURE & TRADITION Visit the House of Black Forest Clocks, a family producer of cuckoo clock and meet Mr Herr, a skilled woodcarver. His creations are made with linden wood sourced directly from the famous Black Forest region in Germany. Watch the artisans at work turning blocks of wood into exquisite designs. An age old art that is passed on through generations. Afterwards indulge your sweet tooth with coffee and Black Forest Cake. |
| 5 | LUCERNE–VADUZ, LIECHTENSTEIN–INNSBRUCK, AUSTRIA | LION HEARTS IN LUCERNE LUCERNE A walking tour includes the Lion Monument and the Chapel Bridge. VADUZ Take an orientation walk with free time to explore. INNSBRUCK Walk through the Old Town to the Golden Roof. 205 mi / 330 km Breakfast Dinner TOUR HIGHLIGHT LEGENDARY LIVES Sculptor Bertel Thorvaldsen's Lion Monument in Lucerne is a moving commemoration of the Swiss Guards who were massacred in 1792 during the French Revolution. As one of Switzerland's most iconic monuments, more than a million visitors stand before this touching tribute each year. One such visitor, Mark Twain, described the sculpture of a mortally wounded lion as "the most mournful and moving piece of stone in the world." |
| 6 | INNSBRUCK–VENICE, ITALY | BENVENUTI A VENEZIA VENICE Take a scenic private boat ride, followed by an orientation walk, including St. Mark's Square, the Bridge of Sighs, and a glassblowing demonstration. Globus Local Favorite Enjoy dinner at a local restaurant. 261 mi / 420 km Breakfast Dinner LOCAL FAVORITE LOCAL TASTES Savor the tastes and traditions of the Italian cuisine and make fun memories with your friends and family around the table. Nothing makes it more special than sharing good food with the ones we love the most and Italians know this more than anyone else in the world. Buon appetito! |
| 7 | VENICE–ROME | TUSCAN TREASURES VENICE Depart for a scenic drive across the Apennine Hills and through vine- and olive-clad Tuscany en route to Rome. 354 mi / 570 km Breakfast TOUR HIGHLIGHT NATURAL WONDERS If all roads lead to Rome, we choose the hilly landscapes of the Appennine Mountains, which stretch hundreds of kilometers from the north to the south of Italy. This "wild heart of Italy" is a natural masterpiece full of brilliant character. A real joy for the hearth and soul. |
| 8 | ROME | WHEN IN ROME ROME Guided sightseeing includes the Vatican Museums, the Sistine Chapel, St. Peter's Square and Basilica, and the Colosseum. Free time this afternoon. Breakfast TOUR HIGHLIGHT LEGENDARY LIVES Stand in awe and wonder amid one of mankind's greatest artistic achievements in the Sistine Chapel. Hear how in 1508, a young Michelangelo was commissioned by Pope Julius II to decorate the chapel's ceiling – a request not welcomed by the 33-year-old sculptor. Michelangelo's 4-year project was indeed one of physical pain and psychological distress, while painting from scaffolds high above the sanctuary floor. Nevertheless, he created what is considered the most famous ceiling in the world, depicting the Creation of Adam in striking fresco style. |
| 9 | ROME–FLORENCE | FINE ART IN FIRENZE FLORENCE Guided sightseeing includes Michelangelo's masterpiece, David, at the Academy of Fine Arts. See Giotto's Bell Tower, the Baptistry's heavy bronze Gates of Paradise, and Signoria Square. Free time this afternoon. 193 mi / 310 km Breakfast TOUR HIGHLIGHT ART & ARCHITECTURE Those lucky enough to visit the Tuscan capital are witness to some of the world's most magnificent. Home to a wealth of Renaissance masterpieces, Florence is famous for Michelangelo's Marble Masterpiece, David, standing ready for battle in the Academy of Fine Arts. Outside, the Piazza del Duomo and Signoria Square offer spectacular sights of Florentine Gothic and Renaissance art, architecture, and monuments. |
| 10 | FLORENCE–PISA–MONTE CARLO, MONACO | A TILTED TOWER & TABLE GAMES PISA Stop for a photo opportunity near the Leaning Tower en route to Monte Carlo. 280 mi / 450 km Breakfast TOUR HIGHLIGHT CITY SIGHTS The glittering lights of Monte Carlo have attracted high-rolling gamblers for decades for its glamour and high-stake games. Explore the nightlife, restaurants, or roulette tables in this iconic city of princes and princesses on the French Riviera. |
| 11 | MONTE CARLO–NICE, FRANCE–LYON | FRENCH CONNECTIONS NICE Drive along the Promenade des Anglais. LYON Take a walking tour of the Old Town with free time to browse before dinner at your hotel. 311 mi / 500 km Breakfast Dinner TOUR HIGHLIGHT CULTURAL GEMS Stroll the Old Town and marvel at its hidden gardens and terracotta rooftops of Renaissance-era mansions, offering a view from the lovely lanes of this legendary culinary capital of France. |
| 12 | LYON–PARIS | BOUNTIFUL BURGUNDY LYON Depart for a scenic drive through Burgundy with its vineyards and châteaux en route to Paris. 292 mi / 470 km Breakfast TOUR HIGHLIGHT LOCAL TASTES Between Lyon and Paris is a world where the celebrated tastes, traditions, and timeless natural beauty reign in the breathtaking landscapes and vineyards of Burgundy. French treasures from escargot to Pinot are produced here, as well as Chardonnay and, of course, the beautiful Burgundy wines. A drive through bountiful Burgundy is brimming with the wonderful tastes and French castles found along the way. |
| 13 | PARIS | C'EST MAGNIFIQUE IN THE CITY OF LIGHT PARIS Guided sightseeing includes sights of the Opéra, Arc de Triomphe, Champs-Élysées, and a Seine River cruise. Breakfast TOUR HIGHLIGHT CITY SIGHTS As the song goes, we love Paris in the springtime; we love Paris in the fall - but no matter the season, we fall in love anytime we visit the most romantic city in the world. From the tempting shops of the Champs-Élysées to the irresistible charms of a corner café, your hearts are set on sharing France's captivating City of Light any time you please. |
| 14 | PARIS | SAFE TRAVELS UNTIL WE MEET AGAIN! Your vacation ends with breakfast this morning. Breakfast |