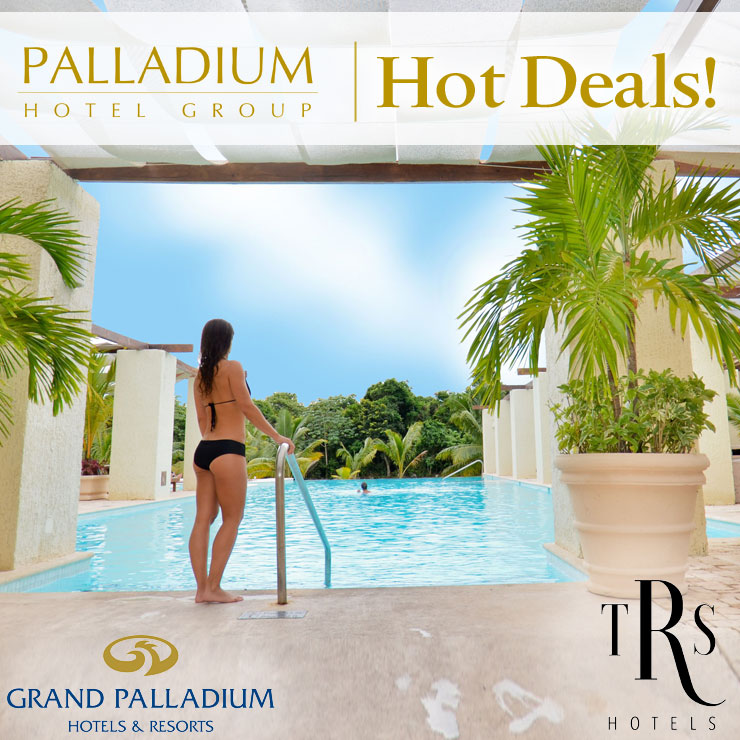 Available now from PERX!
Here's your latest hot deals from the Palladium Hotel Group including favorites such as TRS Hotels and Grand Palladium Hotels & Resorts. There is something to suit every vacation style...adult only, beach stays and of course, family friendly. If you are thinking of a summer vacation with the kids, find three resort deals that offer free stays for 1 child under 12 years of age.
Grand Palladium Hotels & Resorts are located on sunny beaches in idyllic destinations. All-inclusive, personalized, friendly, and known for great service, they're the perfect haven for your escape from daily life. If it's your time for a vacation, consider the choices below and get best rates plus extras, like kids stay free!
If you have questions, want more information or just want to reserve your room at a great rate, contact your PERX Vacation Consultant directly and remember to ask about booking additional rooms for friends & family who wish to travel with you... everyone gets the best rates from PERX! Call now at 1-888-737-9266.
Book before June 24, 2021
Travel before December 23, 2021
Please note that all rates below are per room per night based on double occupancy.
Perfect for Families! Kids go Free!
What's Included? You always get more with PERX!
Rates Include:
Antigen Rapid COVID19 Test FREE OF CHARGE for Guests whose country requires such test for re-entering.
COVID19 STAY SAFE PLUS INSURANCE (Policy Coverage for up to $100K Euros or its equivalent in USD in the event a Guest tests COVID19 positive).
$1500 USD Resort Credit (in Coupons) per room per stay. A 4-Night Minimum Stay is required through Jan 1st, 2022.
Free Wi-Fi Everywhere
24hrs Sports Bar
Nightly Entertainment for Adults & Spectacular Kids & Teens Activities all day long.
Unlimited a la Carte Dining
Food Allergy Program at all Restaurants
Baby Club, Kids Club & Teens Club
KIDS Club Open until 11:00pm
1 Free child Ages 0-12
Applicable to:
Grand Palladium Punta Cana Resort & Spa
Grand Palladium Bavaro Suites
Grand Palladium Palace Resort & Spa
Grand Palladium Costa Mujeres Resort & Spa
Rates Include:
Antigen Rapid COVID19 Test FREE OF CHARGE for Guests whose country requires such test for re-entering.
COVID19 STAY SAFE PLUS INSURANCE (Policy Coverage for up to $100K Euros or its equivalent in USD in the event a Guest tests COVID19 positive).
$1500 USD Resort Credit (in Coupons) per room per stay. A 4-Night Minimum Stay is required through Jan 1st, 2022.
Free Wi-Fi Everywhere
24hrs Sports Bar
Nightly Entertainment for Adults.
Unlimited a la Carte Dining
Food Allergy Program at all Restaurants
Applicable to:
TRS Cap Cana Hotel
TRS Turquesa Hotel