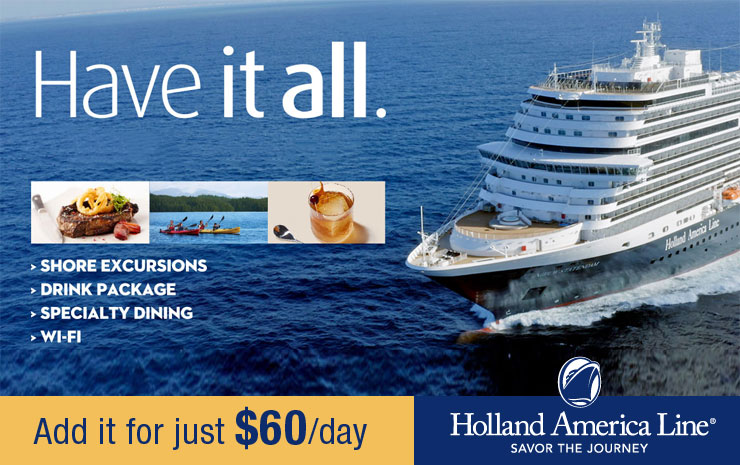 'Have it all' - What is it?
For one simple fare, you can enjoy a premium cruise package that includes Shore Excursions, a Drink Package, Specialty Dining and WiFi.
Have It All Cruise Package - add it for just $50/day (valued at $99/day)!
Ask your PERX Vacation Consultant about adding this value pack to any Holland America booking, and yes, that includes your discounted interline rates! 1-888-737-9266

What's Included in 'Have it all'?

Shore excursions:
6-9 day cruises - 1 Shore Excursion
10-20 day cruises - 2 Shore Excursions
21+ day cruises* - 3 Shore Excursions
The longer you cruise, the more you can explore. Each guest in the stateroom will receive up to a US$100 value per tour or US$100 off any tour. *Excludes Grand Voyages

Drink Package:
6-21+ day cruises - Signature Beverage Package
Choose from a large selection of wine, beer, spirits and cocktails, plus non-alcoholic options like sodas, specialty coffees and more – with service charges included.

Specialty Dining:
6-9 day cruises - 1 night Specialty Dining
10-20 day cruises - 2 nights Specialty Dining
21+ day cruises* - 3 nights Specialty Dining
Enhance your cruise with award-winning specialty dining at Pinnacle Grill, Canaletto or Tamarind. Restaurant availability is based on cruise ship. *Excludes Grand Voyages

WiFi:
6-21+ day cruises - WiFi Surf Package
Stay connected throughout your journey. Surf the web, use social media, check email and send messages to friends and family.
The Best Holland America Interline Deals Start Here!
Best Value Balcony Deals
Lowest Rates Available for even More Savings!