Your search
Change
Marina Fiesta Resort & Spa, 04 Dec 2020 - 08 Dec 2020, 2 adults
Pricing
or call 1-888-737-9266
Rates above are price per room. Additional fees & taxes may apply. All rates are in USD. For multiple rooms contact an agent.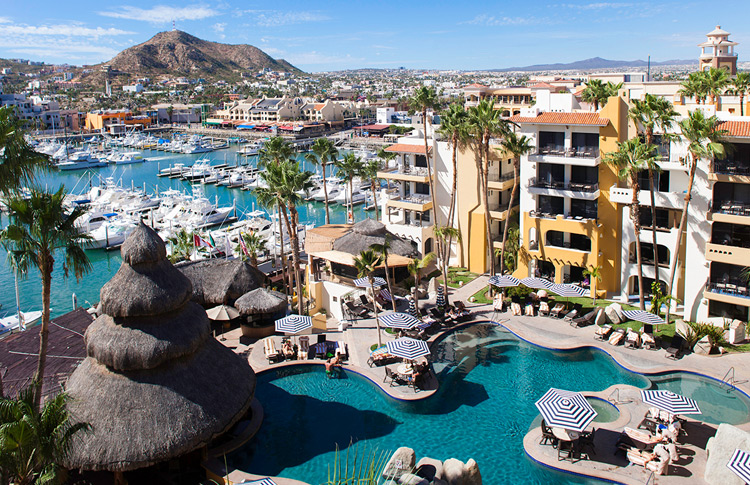 For the ultimate Cabo vacation with the best location, best value, and the most amazing experience, the Marina Fiesta Resort & Spa is unbeatable. Experience the heart of Cabo San Lucas at it´s best and take advantage of the Dine Out concept with Marina Fiesta Golden All Inclusive. Enjoy a unique A la Carte All-Inclusive dining at a selection of fine dining restaurants and bars down at the Marina Golden Zone.
In every sense, the Marina Fiesta Resort & Spa has it all. The finest shopping in the Golden Zone is right next door. You'll find designer boutiques from Gucci to Tiffany's to Fendi. Water activities, yacht charters and the sizzling nightlife of downtown Cabo are nearby. So are the golden sands of the famous Medano Beach. There's family fun at the Dolphinarium where you can swim with the dolphins and the shop-filled Puerto Paraiso Mall is seconds away with movie theaters, bowling, and even a casino.
When you've had enough, the Marina Fiesta Resort & Spa is expecting you with comfort, privacy and first-class service. Unwind with a deep tissue massage at European Spa, enjoy your favorite beverage at the swim-up bar or savor exotic fare and local favorites at a variety of first-class restaurants.