Your search
Change
Grand Fiesta Americana Los Cabos, 03 Feb 2021 - 07 Feb 2021, 2 adults
Pricing
or call 1-888-737-9266
Rates above are price per room. Additional fees & taxes may apply. All rates are in USD. For multiple rooms contact an agent.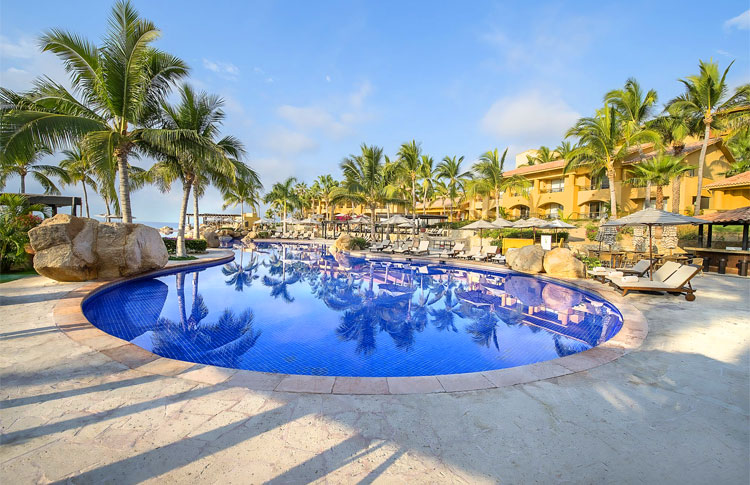 Updated Coronavirus (COVID-19) Status, Testing and Traveler Requirements
Grand Fiesta Americana Los Cabos is located between San Jose del Cabo and Cabo San Lucas, where expansive golf layouts weave in and around sheltered coves and grand sweeps of beach. Grand Fiesta Americana Los Cabos has one of the finest of them all, offering the Ocean Course by Jack Nicklaus, which has been named by Golf Magazines list of top 100 Golf courses in the world. This 250 room resort also offers a variety of other activities, for those in the family who do not wish to golf.  Try a refreshing dip in on of the five pools followed by a cool drink at one of the three bars.  Maybe head down to the beach and spend the day lying on the hot sands or try snorkeling, scuba diving, sailing, deep-sea fishing or one of the even more water activities. After enough water, salt and sand, join in a game of basketball, start a game of tennis or stop by the fitness center for a workout. Afterwards rejuvenate yourself with a massage followed by some time in the sauna, whirlpool or Jacuzzi. After a day of fun and relaxation, it is time for dinner in one of the three restaurants possibly followed by a romantic stroll and staring up at the stars on your private balcony. For further comfort, each room has cable TV, a minibar and air-conditioning. For your convenience the hotel also offers a kids club, 24 hour room service and car rentals.