Your search
Change
Riu Palace Costa Rica, 23 Jun 2021 - 27 Jun 2021, 2 adults
Pricing
or call 1-888-737-9266
Rates above are price per room. Additional fees & taxes may apply. All rates are in USD. For multiple rooms contact an agent.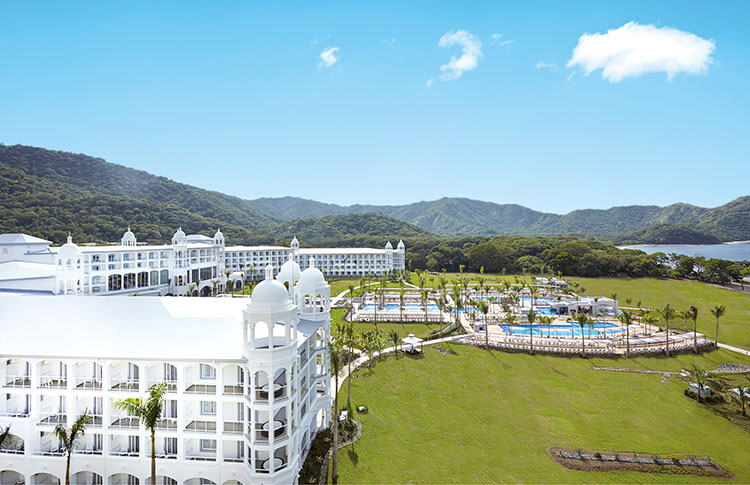 New Riu Hotels & Resorts Covid-19 Safety Protocols... helping to ensure your safety.
The Hotel Riu Palace Costa Rica (All Inclusive 24h), is located in Guanacaste, Costa Rica on the edge of the beach of Matapalo. This hotel, fully prepared to provide the best service to its customers, has four swimming pools (one with a wet bar), jacuzzi, gym, sauna and a wellness center "Renova Spa" with different treatments and massages. Everything you need for maximum comfort during your stay.
The quality of the cuisine offered at the different restaurants of the hotel is exceptional thanks to our chefs, who prepare a variety of dishes, from classic to the most exotic. You'll want to to try each of our menus and thanks to the All Inclusive service, you will be able to enjoy the buffet restaurant or the four different theme restaurants of the hotel.
If your stay is for work purposes, then the Hotel Riu Palace Costa Rica will be ideal for you. It has five conference rooms, modern and fully equipped so you can conduct meetings or events in a professional and simple way, well as various services that you will be able to request.
Being on a privileged environment, the hotel offers a variety of activities on the beautiful beaches such as diving or fishing in the Pacific waters, ecotourism in the volcanic areas, and during the day several programs of entertainment for all ages, whether in family or friends. The hotel has a gym, table tennis, volleyball, tennis court, windsurf, sailing, snorkeling equipment, kayaks and other water activities. If your favorite sport is golf, the Four Seasons Golf Club has fantastic views over the sea.
Guanacaste is less tropical, humid and lush than the rest of the country. Its plains and dry forests sometimes remind African savanna landscapes. Inland you can see the savanna, local cowboys on their horses while driving their flocks, which are authentic figures of popular culture of this destination.
Room service 24 hours a day
"Arenal" main restaurant with terrace
"Krystal" Fusion restaurant
"Tokio" Japanese restaurant
"L'Anfora" Italian restaurant
"Papagayo" poolside restaurant / steakhouse
"Daiquiri" lobby bar
"Capuchino" pâtisserie & ice cream parlor
"Stars" lounge bar with terrace
"Melody" plaza bar
Lounge 24
"Coconut" poolbar with swim-up bar
Sports bar (at Riu Guanacaste)
4 swimming pools, 506/520/520/170 m²
Free sun loungers, towels and parasols by pool
Sun terrace
Children's swimming pool and children's playground
"RiuLand" kids' club
"RiuArt" atelier
Free WiFi throughout hotel
At the Riu Resort:
Conference and Events centre with 5 conference and meeting rooms
Spa "Renova Spa" with a varitey of treatments (additional charge)
Free gym, steam bath and whirlpool bath
Use of the gym, whirlpool bath and steam bath is restricted to guests over 18 years old. Use of the whirlpool bath and steam bath (reservations required in advance). Sports shoes are compulsory when using the gym
"Pacha" discotheque (free entry, drinks not included)
Casino
"El Poblado" Street with boutique, kiosk, mini-market, souvenir & photo shop
Medical office (at additional charge)
TRAVEL UPDATE: As of October 26th all local and foreign passengers who enter Costa Rica by air are not required to present a RT-PCR diagnostic test with a negative result and as of November 1st enables its air border to all countries in the world.
As of November 1, 2020, U.S. citizens from all 50 U.S. States and Washington, D.C. will be allowed to enter Costa Rica with the proper insurance to cover COVID-19 related medical treatment and quarantine lodging while in Costa Rica and completed Health Pass. U.S. citizens entering Costa Rica as of November 1, 2020, will not be required to provide a valid driver's license or State ID card.