Your search
Change
Riu Playa Blanca, 03 Dec 2020 - 07 Dec 2020, 2 adults
Pricing
or call 1-888-737-9266
Rates above are price per room. Additional fees & taxes may apply. All rates are in USD. For multiple rooms contact an agent.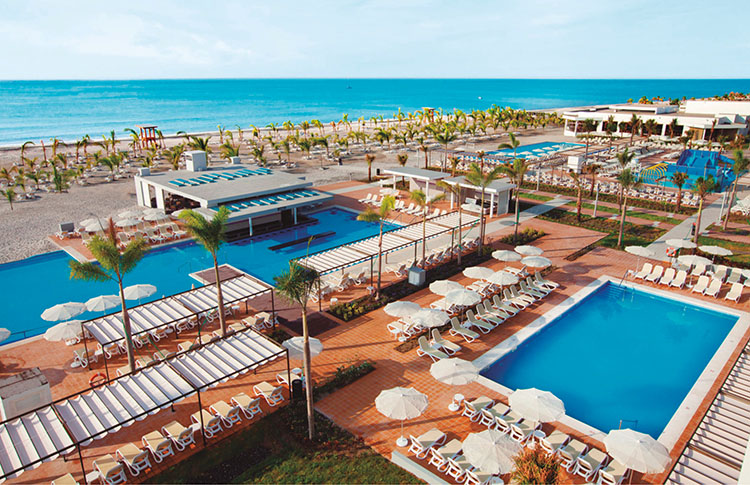 New Riu Hotels & Resorts Covid-19 Safety Protocols... helping to ensure your safety.
Hotel Riu Playa Blanca (All Inclusive 24h) is located on the shore of Playa Blanca in Panama. Its exclusive service All Inclusive 24h and their complete facilities, offer a lot of activities, sports and entertainment to all its clients and making their stay a wonderful vacation with the family and friends.
In the hotel you will find different buffet and thematic restaurants to taste the delicious panamanian gastronomy, refreshing swimming-pools and one gym in order to maintain the rhythm during your vacations. All over the day you will be able to join different activities with our team. You will be able to dance, to sing, do some aqua gym, volleyball... and the children will find Riuland. At night you will enjoy the shows, live music, the discotheque or maybe just taking a cocktail under the moonlight.
"Balboa" main restaurant with terrace
"Xian" Asian restaurant
"Il Palazzo" Italian restaurant
"Chiriqui" poolside restaurant / steakhouse with terrace
"Burbujas" lobby bar
"La Rumba" lounge bar
Sports bar
"La Cumbia" plaza bar
"Limón" poolside bar with swim-up bar
2 swimming pools, 470 m² and 136 m²
Pool with swim-up bar, 590 m²
Children's swimming pool, 290 m²
Complimentary sun loungers, towels and parasols by the pool
Sun terrace
"RiuLand" kids' club and children's playground
Use of computers with internet access (Sports bar, additional charge)
Free WiFi in public areas of the hotel
WiFi in rooms at a charge
Complimentary gym,
Conference room, 157 m²
Night club "Pacha"
Gift shop, shop