Your search
Change
Grand Palladium Bavaro Suites, 06 Mar 2020 - 10 Mar 2020, 2 adults
Pricing
or call 1-888-737-9266
Rates above are price per room. Additional fees & taxes may apply. All rates are in USD. For multiple rooms contact an agent.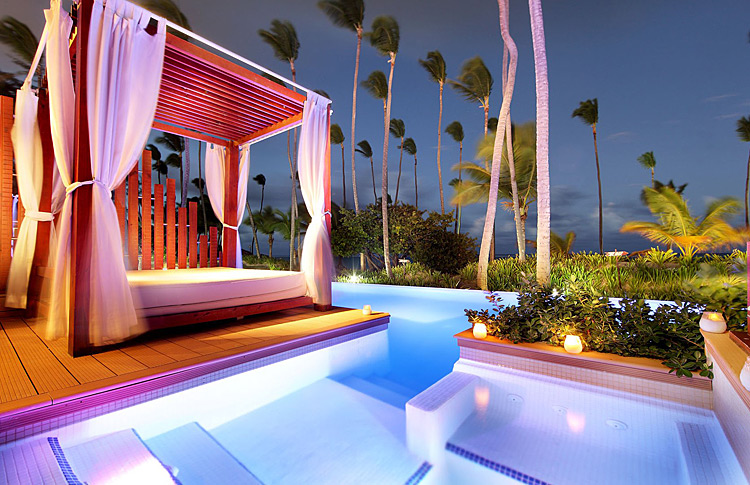 Located in their Punta Cana Resorts complex, you'll find the Grand Palladium Bávaro Suites Resort & Spa, named after one of the most famous beaches on the east coast of Quisqueya. The island's beautiful tropical landscape provides the perfect harmony for the soundtrack of this paradisiacal haven: the murmur of waves crashing on fine white sands that cover a stunning 1 km long beach. Surrounded by some impressive palm trees and sumptuous vegetation, this Resort shares a great selection of restaurants, bars and entertainment and sports options with the Grand Palladium Palace Resort Spa & Casino and the Grand Palladium Punta Cana Resort & Spa.
674 rooms: 124 junior suites, 309 master junior suites, 63 romance suites, 8 swim up junior suites, 8 ocean view loft suites, 108 deluxe junior suites, 48 luxury junior suites and 6 luxury master suites.
8 à-la-carte restaurants with a large variety of cuisines.
5 Buffet-Style Restaurants.
15 bars throughout the resort.
4 Pools
A top-rate Zentropía Palladium Spa & Wellness Center
Casino*
Convention Centre: 1 business centre with 7 modular rooms arranged into two groups, and several lounge and coffee break areas.
The Baby CLub "El Castillo del Pirata" (aged 1-3), the Mini Club for children (aged 4-12) and the Junior Club "Black & White" for adolescents (aged 13-21).