a PERX Special
price per room per night based on double occupancy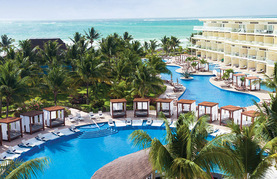 Puerto Morelos, Mexico
Azul Beach Resort Riviera Cancun
AI Luxury Suite
The kids are back in school so now is the time that savvy travelers look for better rates, more flight availability and an overall more relaxed pace. You know it as "Prime Time to Interline!"
Have a look at our selection of deals in October or scroll down to search by your favorite resort name.... just click the logo for even more all-inclusive resort deals!
Exclusive PERX October Stays
two can stay for just...
... great rates on even more of our favorites!
the price you see is the price you pay (per room per night)
Pack & Go From Our Partners