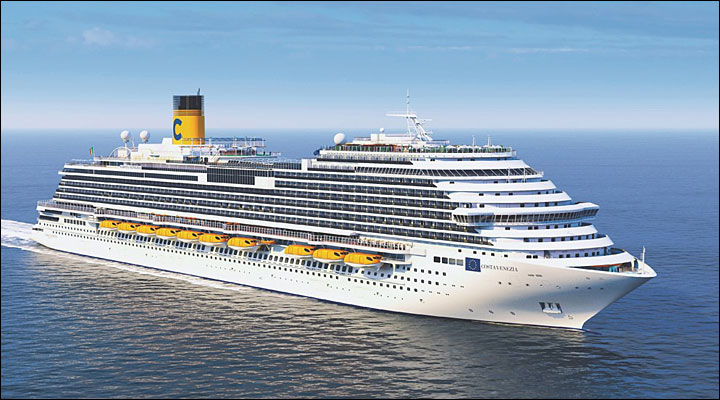 Costa Venezia
WITH THE BOW POINTED EAST, ALONG THE ANCIENT SPICE ROUTES

The warm Italian hospitality combined with innovation to see the world from another point of view, that of the sea. The sophisticated and sensual atmosphere that makes Venice unique in the world travels with you aboard Costa Venezia, our new ship dedicated to the city of Marco Polo and Casanova. Let yourself be carried away by emotions on a cruise between Europe and the East through an itinerary full of history and following the ancient routes of merchants and spices.
An unforgettable journey that crosses three continents, four seas and 18 countries: from the Adriatic to the Red Sea, from India to Singapore, from China to the shores of Japan.
LIVE THE CARNIVAL OF VENICE ON BOARD
Carnival is the most Venetian festival, a synthesis of all that characterizes the lagoon city: culture, history, tradition. In Venice, Carnival is everywhere. Just leave the house, and the party is there. A party that pervades everything and everyone. For two weeks everything is wrapped in costumes, music and partying. The mask, "vòlto" in Venetian, rises to an art form, and becomes an artifice to enter the upside-down reality of the party crowds. Behind the mask that hides your true identity, you are free to finally express yourself.
On board the Costa Venezia, the experience of the authentic Venetian Carnival is revived all year round!