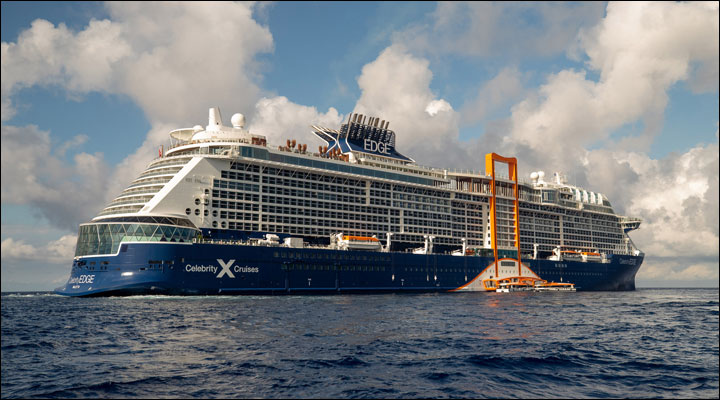 Celebrity Edge
Celebrity Edge is the first of four new cruise ships that will debut under Celebrity's Edge Class moniker. Debuting in December 2018, Edge marks a turning point in Celebrity's approach to ship design. From the incredible new Magic Carpet, an extraordinary venue that changes mood, function, and even its location, to the private plunge pools in the new 2-story Edge Villas, they have designed the most refined ship at sea. The unique outward facing design breaks from traditional ship design. Aboard, you'll feel more connected with the sea and the places you'll visit in a variety of spaces ranging from the Edge Staterooms with Infinite Verandas℠, to the reimagined, terraced pool deck that offers even greater views of the destinations and shimmer of ocean.
As the sun sets, the groundbreaking spaces on Celebrity Edge transform to deliver completely new experiences. By day, outward-facing ocean views, ever-changing abstract artwork, and unexpected entertainment create a luxurious resort-style atmosphere. At night, ambient lighting, unique al fresco dining, and live music set the scene for energy, intimacy, and elegance.
On Celebrity Edge, even the most popular Celebrity spots have undergone a transformation. The adults-only Solarium continues the tradition of a covered pool area where adults can unwind in modern luxury style, but now features a 3D art wall to represent the colors and movement of the ocean. It's the perfect complement to a serene atmosphere where you can restore both your tan and your sanity.
Measuring 117,000 gross registered tons, Celebrity Edge and its four sister ships will have a double passenger capacity of 2,900 people, making them larger than the line's Millennium-class ships but slightly smaller than those in the Solstice Class.