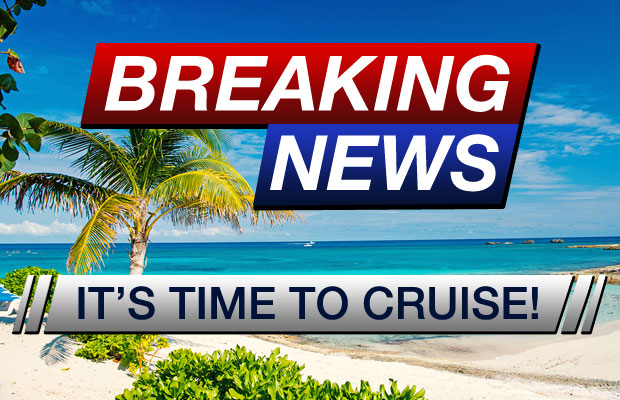 Great News, it's now official! Cruise ships can start sailing from North America Departure Ports!
One day before Centers for Disease Control and Prevention's (CDC) "No-Sail Order" was set to either be extended or expire, the government agency issued a new "Framework for Conditional Sailing Order," permitting a gradual resumption of operations beginning on Nov. 1, 2020.
"The initial phases will consist of testing and additional safeguards for crew members," according to the new order. "CDC will ensure cruise ship operators have adequate health and safety protections for crew members while these cruise ship operators build the laboratory capacity needed to test future passengers. Subsequent phases will include simulated voyages to test cruise ship operators' ability to mitigate COVID-19 risk, certification for ships that meet specific requirements and a phased return to cruise ship passenger voyages in a manner that mitigates COVID-19 risk among passengers, crew members and U.S. communities."
In other words, cruises can resume but not immediately with passengers. While Cruise Lines International Association's (CLIA) voluntary pause of member sailings also ends Oct. 31, 2020, a later resumption is consistent with individual cruise lines' recent cancellations into December.
Carnival Cruise Line recently cut its Miami and Port Canaveral, Fla., voyages from its November calendar, and Norwegian Cruise Line and Royal Caribbean International did the same globally.
According to sources, cruise lines are hoping the month of November should provide enough time for them to prove to CDC the effectiveness of their proposed measures included in such documents as the "Healthy Sail Panel," which was developed by Royal Caribbean Group in collaboration with Norwegian Cruise Line Holdings Ltd., as well as CLIA's own industry-wide recommendations.
The CDC also said it "carefully considered" the nearly 13,000 public comments it received over a two-month period that ended Sept. 21. A majority of the respondents – 75 percent – favored a return to cruising with appropriate testing and health protocols, while 25 percent preferred waiting, especially until a vaccine is widely available. About 85 percent supported face coverings.
"While we look forward to reviewing the new order in detail, we expect much of the Healthy Sail Panel's recommendations, which were adopted by CLIA's Global of Directors earlier this month, have been considered and will serve as an important foundation," said Kelly Craighead president and CEO of Cruise Lines International Association.
"The cruise industry and the CDC have a long track record of working together in the interest of public health, and we look forward to continuing to build upon this legacy to support the resumption of cruising from U.S. ports. With enhanced measures in place, and with the continued guidance of leading experts in health and science as well as the CDC, we are confident that a resumption of cruising in the U.S. is possible to support the economic recovery while maintaining a focus on effective and science-based measures to protect public health."
This a fantastic news and starts the process of getting cruise fans back on board their favorite cruise lines. As CDC opens this window to allow sailings to resume soon, more details are sure to emerge from cruise lines that are eager to welcome back guests onboard... keep watching for more information from PERX and if you have questions about this announcement or future cruise plans, as always, your best resource is your favorite PERX Vacation Consultant! Stay tuned for more.....
If you would like to read the full CDC statement, please click here for the .pdf file (40 pages).